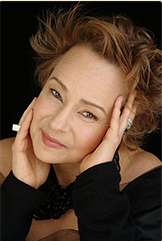 Hadassa Tal, laureate of the coveted Leah Goldberg Poetry Award, has published six poetry collections with Hakibbutz Hameuchad Publishing House. Her work has been translated into several languages and she is the subject of a US documentary produced by Truestories. "It is poetry refined as crystal" wrote Bruno Doucey, publisher of Tal's work in France, where it has now been declared part of the Ministry of Education's syllabus.
Hadassa Tal's work expresses the inexpressible in stunning collections of poetry. Her poems consider the liminal space between mysticism and the immediate, distilling her poetics in order to voice what is beyond words.
Like light falling through a crack, these poems shine through the darkness, translated from the Hebrew by Joanna Chen. Leading literary critic and publisher Uzi Shavit declared her latest book "a book of exceptional quality in Hebrew poetry. The characteristic poetics of Tal assemble in a few lines a rich expanse of patterns, raising it to a philosophical level, while the words are bound into a tight crystal of beauty."
These collections of poetry reconsiders the role of language in expressing deep emotion and the of diversity of feeling felt by people all over the world.
Her poetry is nonconforming, radical and hard-hitting both structurally and conceptually.
Hadassa Tal's poems have inspired leading artists in various fields and has been set to music, dance, and visual arts worldwide. Her poems were included in numerous choreographies and were performed at notable art festivals. Her book Notes for Pina Bausch was performed all over Europe, Russia & Japan by the choreographer and dancer Rina Sheinfeld, accompanied by the soundtrack of the book, in the poet's voice. Many of Tal's poems have been scored and performed by musicians. The Brazilian pianist and composer Henrique Eisenmann created a modern jazz suite that was performed in New York, Boston, Paris and Tel Aviv. Israeli gong artist Noa Blass and composers Dori Parnes and Adi Rennert created various musical collages of Tal's poetry. In the field of the visual arts, her poems have inspired several artists: Sculptor and painter Menashe Kadishman, sculptor Ruth Zarfati and painter Simcha Nornberg.
In 2003 Hadassa Tal inaugurated an art galery in Bar Ilan University, named after her parents Simcha & Bella Nornberg, where many works of the artist are assembled.
Tal holds a Ph.D. in Comparative Literature.